About Deborah Goodman Davis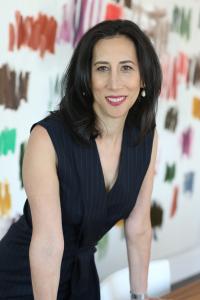 Photograph by Alyssa Peek
Deborah Goodman Davis is a veteran of the art world with over 25 years experience. Her specialized knowledge encompasses modern & contemporary art & photography.
She has held positions at some of the most prestigious museums and institutions both in the United States and internationally, including at the Art Institute of Chicago, Yale University Art Gallery, the Herbert F. Johnson Museum of Art at Cornell University, the Montreal Museum of Fine Art, and Sotheby's London.
As the curator for a number of prominent corporate and private collections, the Archer Hotels and Pharmascience, Inc. among them, Deborah puts her expertise to work using her sharp eye and specialized knowledge to match the right works of art with the individual tastes and interests of each of her clients. Other recent curatorial work includes the 2018 75th Anniversary Commissions for New York City Center by Jorge Otero-Pailos, Nina Robinson, and Lawrence Weiner, and the 2014 exhibition Speaking Through Paint: Hans Hoffman's Legacy Today at Lori Bookstein Fine Art. She also worked alongside Jeffrey Deitch to mount the seminal show, Post Human.
Her 2012 children's book, Speeding Down the Spiral: An Artful Adventure, about a family's trip to the Guggenheim Museum, received the Mom's Choice Silver Medal Prize. She also edited PhotoRX: Pharmacy in Photography Since 1850, a catalogue dedicated to the renowned art collection of Pharmascience, Inc., by Damiani Editore in 2017. Her newsletter, Access to Art, reaches an audience of over 500 passionate and knowledgeable collectors monthly.
Deborah's many memberships and professional affiliations include a seat on the board of the New York City Center, Chair of the Contemporary Art Acquisitions Committee and a Board Member of the American Friends of the Israel Museum, Chair of the Friends of Photography Acquisition Committee and a member of the Advisory Council of the Herbert F. Johnson Museum.
She received a BA from Cornell University and an MA from the University of Chicago, both in art history. She has also completed coursework at the Yale University Graduate School of Art History and attended the Sotheby's Works of Art Course in London.
Deborah Goodman Davis Fine Art is located in New York City. For more information please contact her here.